Description
Description
• Packed with plant-based omega-3s – helps fight inflammation
• High in fibre – 6g per serving (25% of recommended daily fibre intake)
• Good source of plant protein – 16.5g plant protein per 100g
• Vegan and gluten-free
• Easy to use: Stir, Blend or Bake!
• Perfect accompaniment for our Plant-Based Crew Oat Milk!
Per 100g
Energy
486 kcal
Fat Total
Saturated fat
Trans fat
38.7g
3.3g
0g
Carbohydrates
42.1g
Protein
16.5g
Cholesterol
0mg
Fibre
39.3g
Sodium
16mg
What are chia seeds and where are they sourced from?
Chia seeds are small, nutrient-dense seeds that come from the Salvia hispanica plant, which is part of the mint family. Our chia seeds are sourced from Peru, where they have been cultivated for centuries and are considered a traditional superfood.
What are the nutritional benefits of chia seeds?
Chia seeds are packed with nutrients and are a great addition to any diet. They are a good source of fiber, protein, omega-3 fatty acids, and various vitamins and minerals. They also have antioxidant properties and can help lower inflammation in the body.
How can I use chia seeds in my diet?
Chia seeds can be used in a variety of ways in your diet. They can be added to smoothies, oatmeal, yoghurt, or used as a topping for salads or roasted vegetables. Chia seeds can also be used to make a vegan egg substitute by combining them with water. When soaked in liquid, chia seeds become gelatinous, making them a great addition to puddings or as a thickener for sauces or jams.
Are chia seeds environmentally friendly?
Yes, chia seeds are an environmentally friendly food choice. They require less water and fewer resources to grow compared to many other crops. Additionally, chia seeds are often grown organically without the use of pesticides or herbicides, making them a more sustainable choice.

Recipe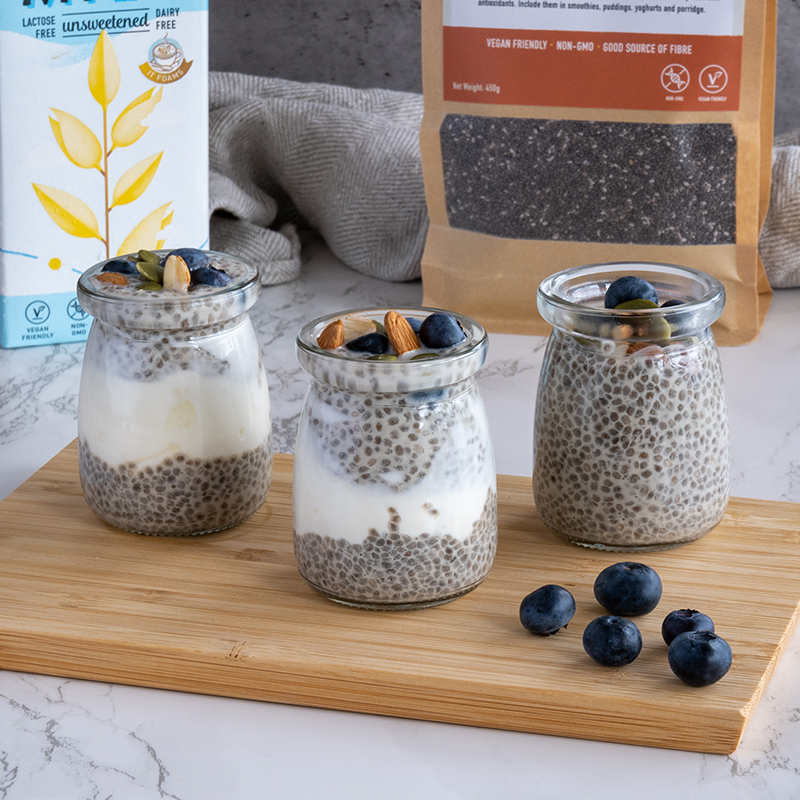 Oat Milk & Chia Seed Pudding
This easy and healthy recipe for Oat Milk & Chia Seed Pudding is perfect for a quick breakfast or snack. Made with just a few ingredients, it's a delicious and satisfying way to start your day!
Ingredients:
120ml Plant-Based Crew Oat Milk Original or Oat Milk Barista
2 Tbsp Organic Chia Seeds
Fresh fruits or other toppings of your choice (optional)
Method:
In a jar, stir together the Oat Milk and chia seeds until well combined.
Let the mixture sit for about 10 minutes, stirring occasionally.
Cover the jar and refrigerate the pudding for at least 3 hours or overnight.
Once the pudding is set, add your favourite toppings and enjoy!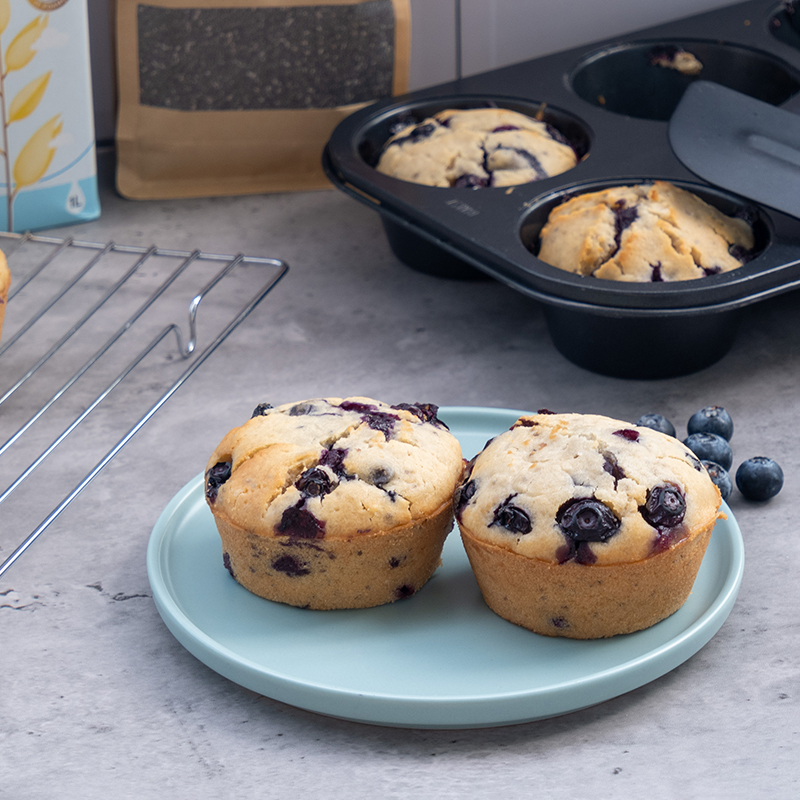 Blueberries Chia Seed Muffins
Looking for a delicious and healthy breakfast option? These Blueberry Chia Seed Muffins made with Plant-Based Crew Oat Milk are the perfect solution. Follow this easy recipe and enjoy these moist and flavorful muffins in no time.
Ingredients:
120ml Plant-Based Crew Oat Milk Original or Oat Milk Barista
180g all-purpose flour
125g blueberries (fresh or frozen)
120g sugar
80ml coconut oil, melted
2 tsp baking powder
1/2 tsp salt
1 chia egg (1 tbsp chia seeds mixed with 2.5 tbsp water)
1 tsp vanilla extract
Method:
Preheat the oven to 200°C and line a muffin tin with parchment paper.
Mix the chia seeds with water to make the chia egg and set aside.
In a large bowl, combine the all-purpose flour, sugar, salt, and baking powder.
Add in the melted coconut oil, oat milk, chia egg, and vanilla extract. Stir until just combined.
Fold in the blueberries until evenly distributed throughout the batter.
Scoop the batter into the muffin tin and bake for 18-20 minutes or until the tops of the muffins start to brown.
Let cool and serve for a tasty breakfast or snack option.