Description
Description
• Dairy-free, lactose-free and cholesterol free.
• Better for the environment.
• Made with non-GMO oats.
• No added sugar.
• Naturally Low in fat and rich in calcium.
• Great taste – rich and creamy.
Per 100ml
Energy
53 kcal
Fat Total
Saturated fat
Trans fat
2.5g
0.3g
0g
Carbohydrates
of which sugars
7.0g
5.7g*
Protein
0.5g
Cholesterol
0mg
Fibre
0.8g
Sodium
39mg
Calcium
120mg
*Natural sugars from oats
What is Oat Milk?
Oat Milk is a plant-based milk made by blending oats with water. It's naturally dairy-free and lactose-free, making it suitable for vegans and people with dairy allergies. At Plant-Based Crew, we make our oat milk from non-GMO oats sourced from selected farms in Europe, with no added sugar.
Does Oat Milk need to be refrigerated?
Our Oat Milk is shelf-stable and can be stored at room temperature until its expiration date. Once opened, we recommend keeping it in the fridge and consuming it within 5 days.
Is Oat Milk healthy?
Yes, Oat Milk is a healthy dairy alternative that's suitable for daily consumption. It's a great option for people who are lactose intolerant, have nut or soy allergies, or simply want to reduce bloating. Our Oat Milk is high in fibre, which is great for gut health and weight management. It's also high in calcium, making it an excellent source of bone health. Our Oat Milk contains no added sugars and is a good source of energy.
What can I use Oat Milk for?
You can use our Oat Milk Original as a 1:1 replacement for dairy milk in any recipe. Enjoy it in a glass, blend it into smoothies, or use it in baking and desserts.
Why is Oat Milk good for the environment?
Unlike dairy milk, Oat Milk doesn't require cows, and as a result, it uses 11 times less land, 13 times less water, and has 3.5 times less carbon footprint. By choosing Oat Milk, you're making a positive impact on the environment.
Is the packaging recyclable?
Yes, our Oat Milk packaging is recyclable. Our packaging paper is made from 75% recyclable materials, and our bottle caps are made from natural derivatives from sugarcane. By choosing our Oat Milk, you're making a sustainable choice for both your health and the environment.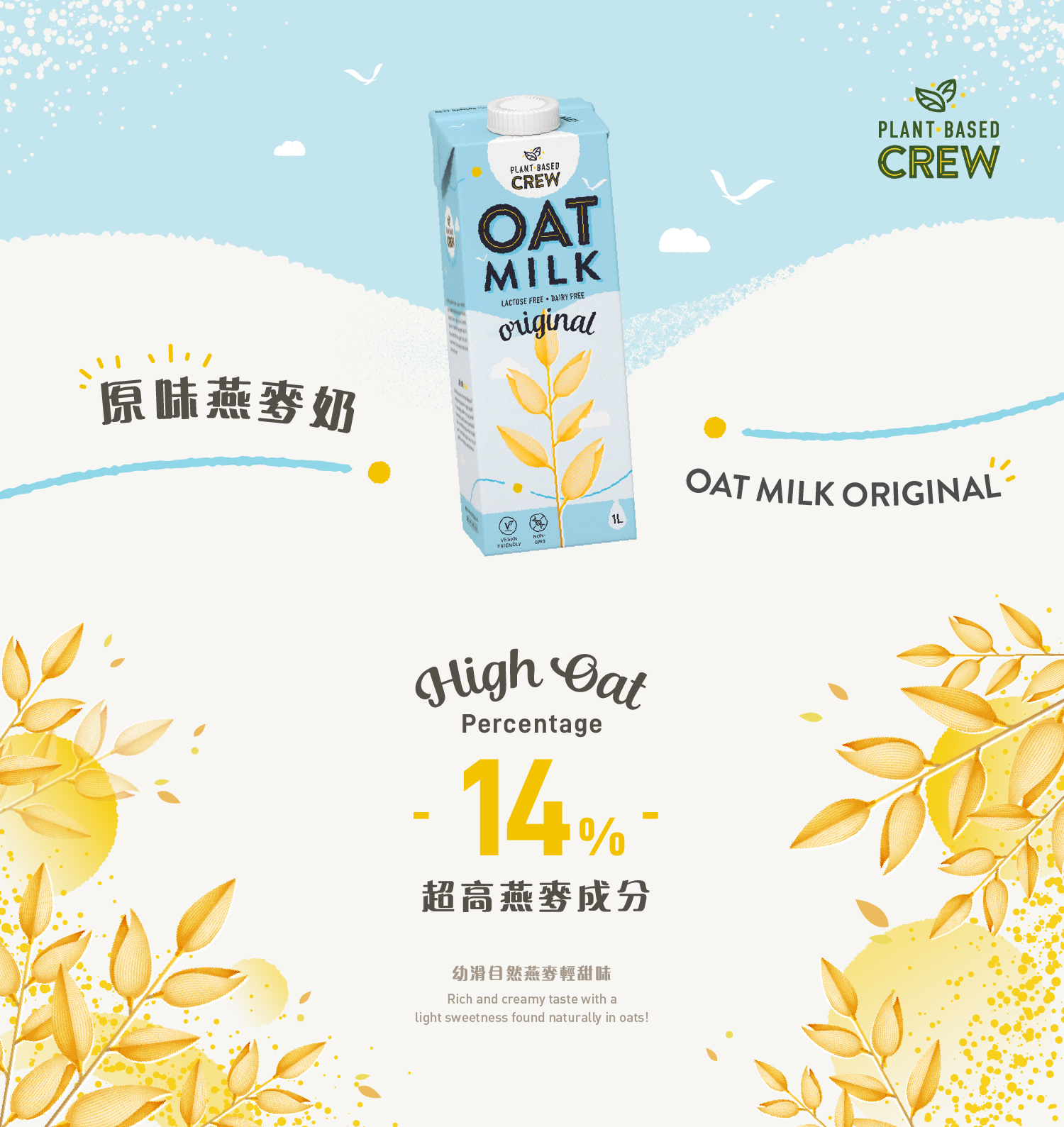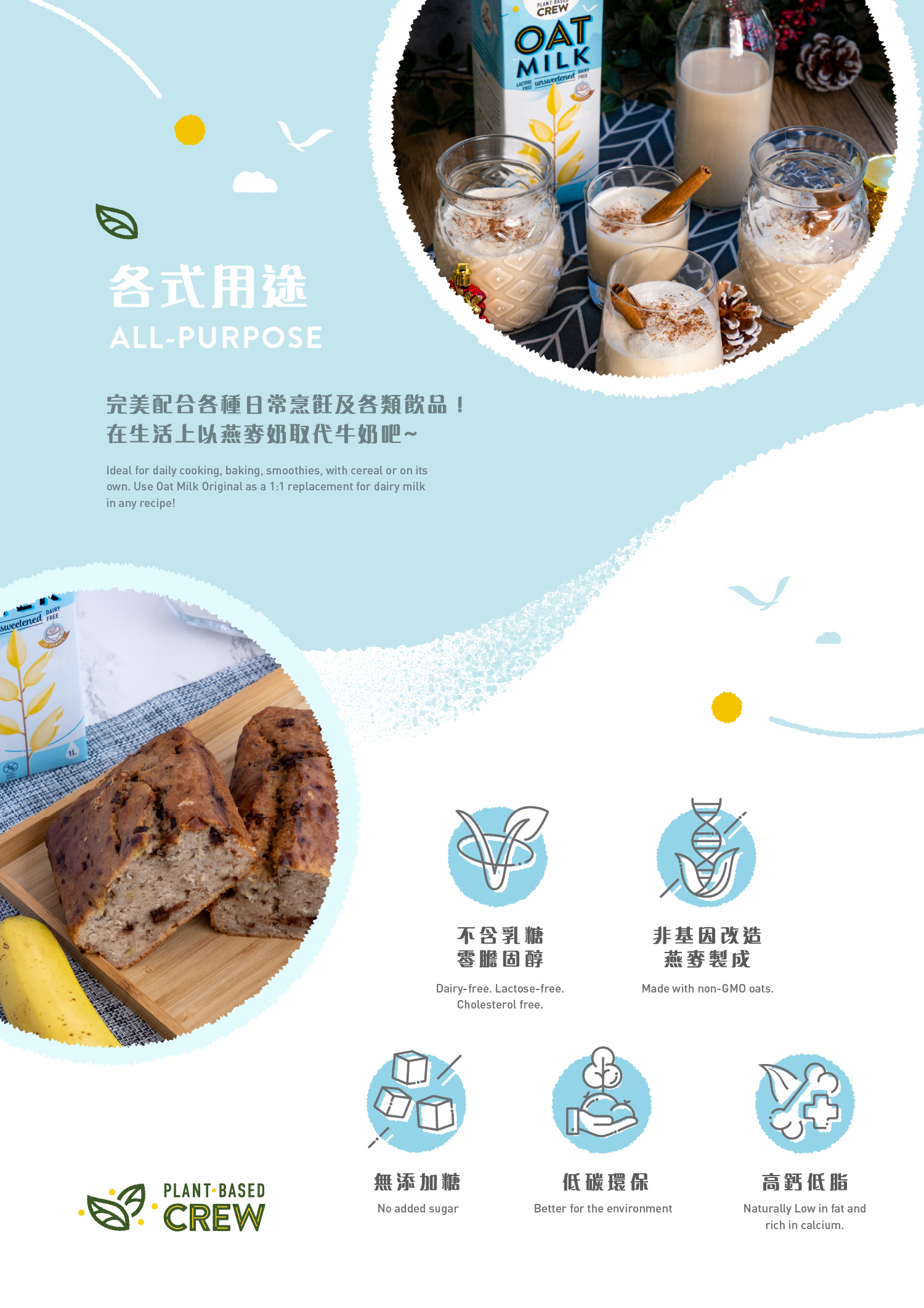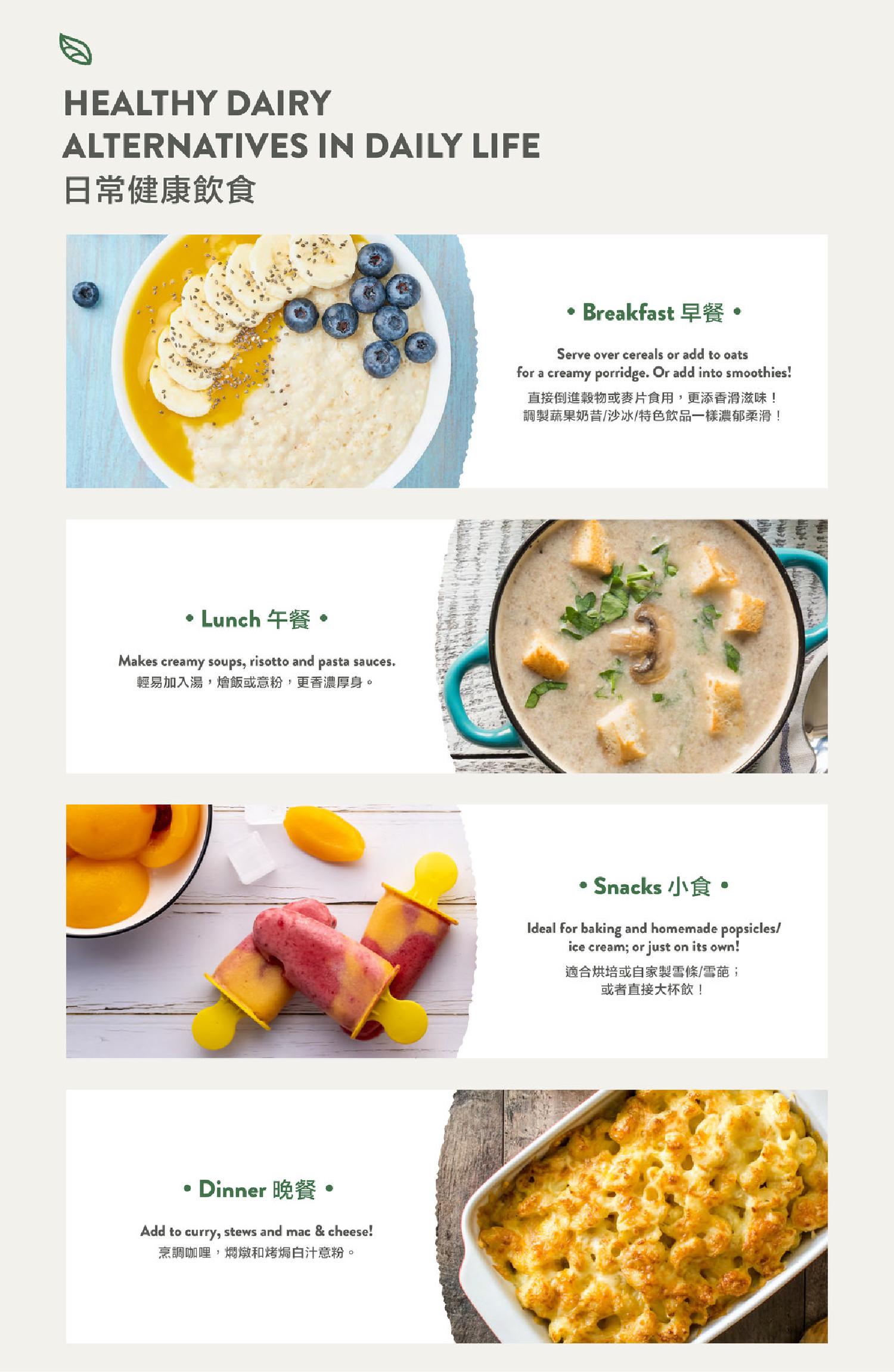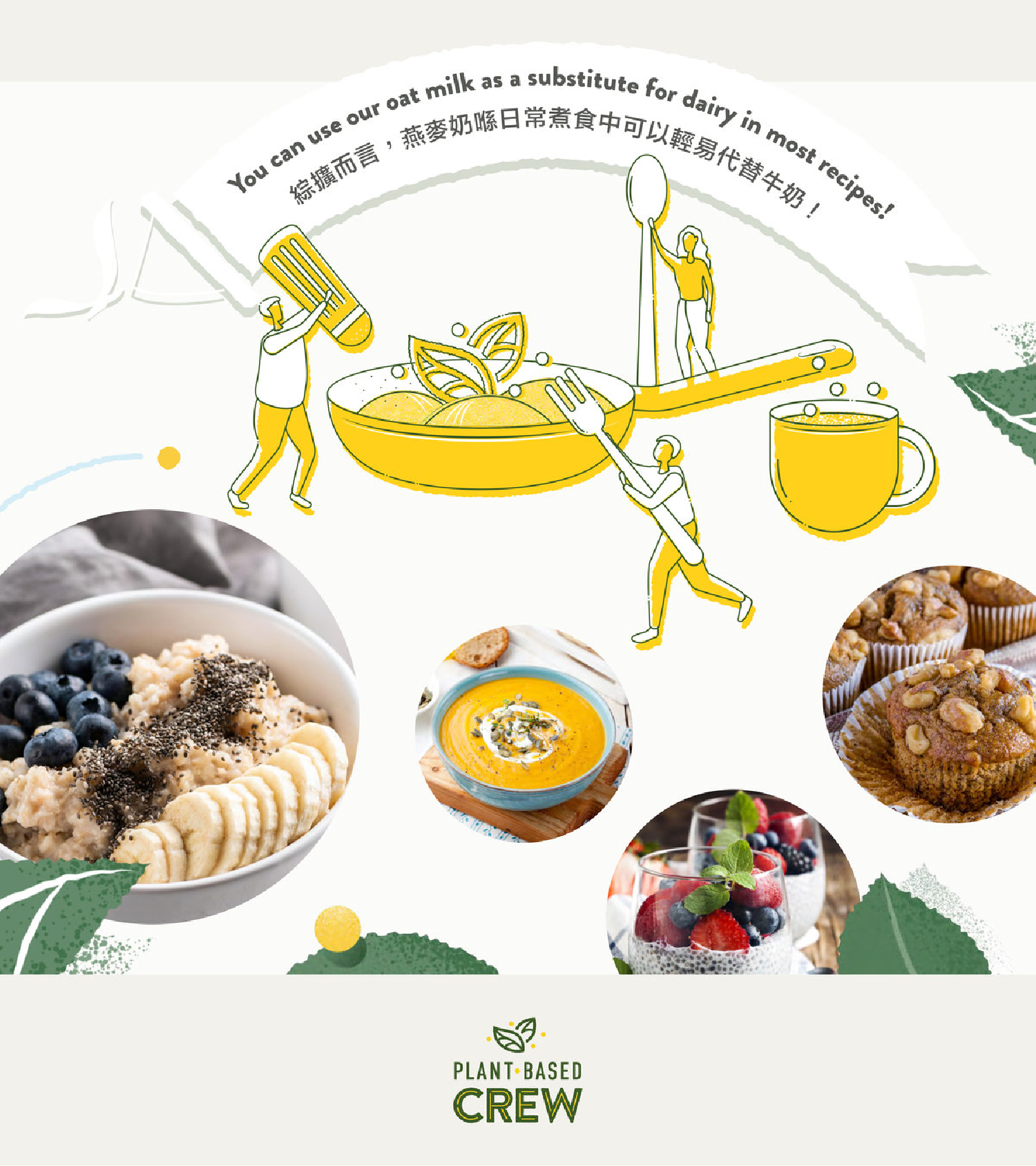 Recipe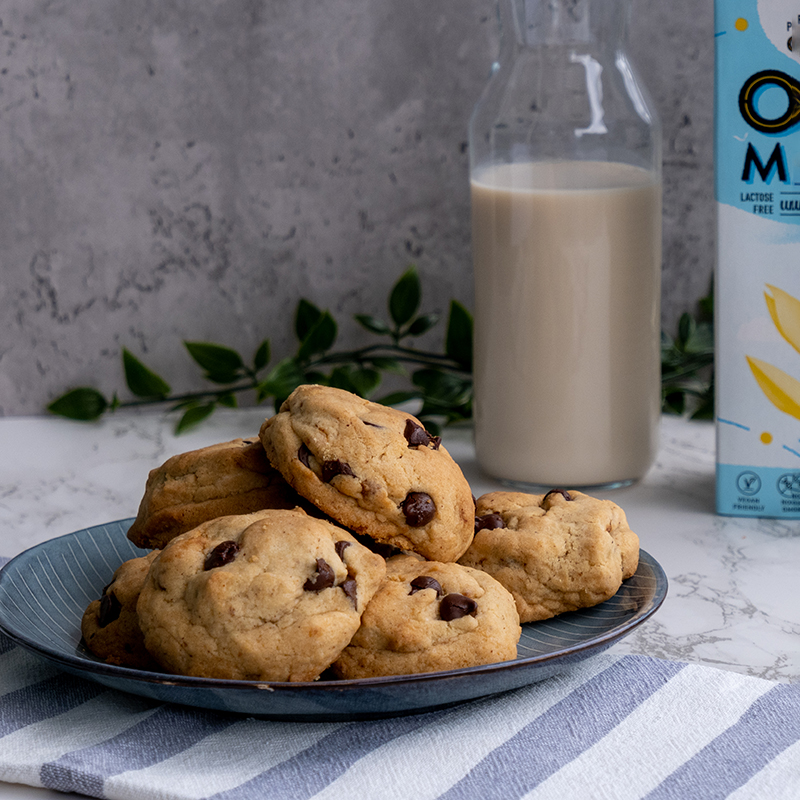 Vegan Chocolate Chip Cookies
These vegan chocolate chip cookies are the perfect indulgence - crispy on the outside, chewy on the inside, and packed with rich, chocolaty goodness.
Ingredients:
118ml coconut oil
160g light brown sugar
120g vegan chocolate chips
100ml Plant-Based Crew Oat Milk Original
60g almond butter (or any nut butter)
300g all-purpose flour
1 teaspoon baking soda
1/2 tsp salt
2 teaspoons vanilla extract
Method:
Preheat the oven to 190°C. Line a large baking sheet with parchment paper and set it aside.
In a large bowl, whisk together the coconut oil, brown sugar, and vanilla extract until well combined. Add the oat milk and whisk until well combined, then set aside.
In a separate bowl, combine the flour, baking soda, and salt. Whisk well to combine.
Add the dry ingredients into the wet mixture and stir until all ingredients are combined. The batter will look thick. Fold in the vegan chocolate chips.
Scoop the dough onto the lined parchment paper, leaving a few inches between each cookie for spreading.
Bake for 10-12 minutes or until the edges are golden and the centers have set.
Transfer the cookies to a cooling rack and store them in a container for up to 5 days.
Enjoy your delicious vegan chocolate chip cookies made with Plant-Based Crew Oat Milk Original!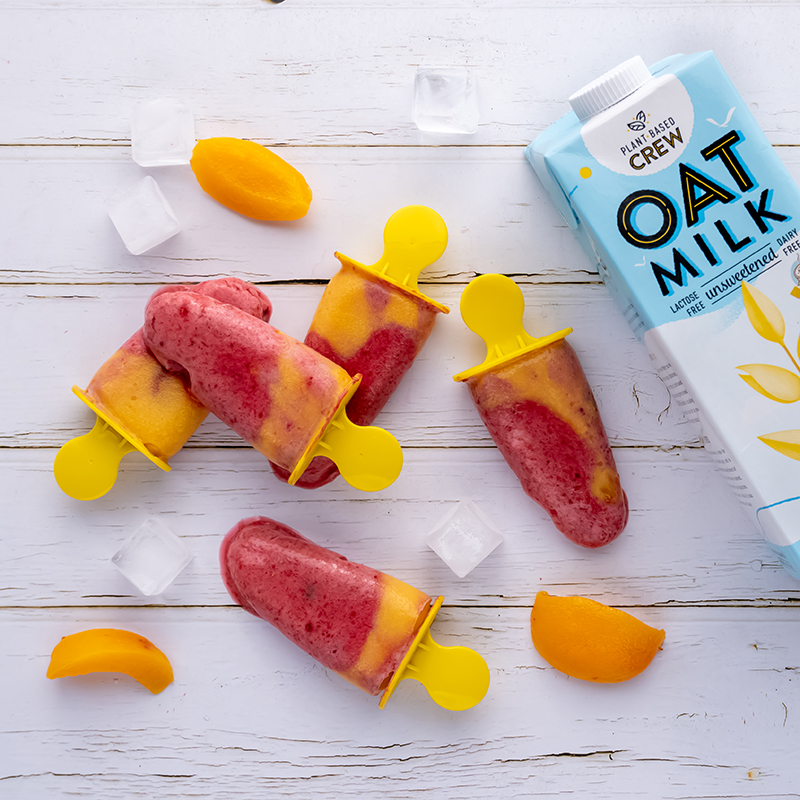 Berry & Peach Oat Milk Popsicles
These Berry & Peach Oat Milk Popsicles are a refreshing and delicious treat on a hot summer day. Made with frozen raspberries, canned peaches, orange juice, and Plant-Based Crew Oat Milk Original, these popsicles are easy to make and perfect for a quick and healthy snack.
Ingredients (Serves 6):
250ml Plant-Based Crew Oat Milk Original
75g frozen raspberries
180g frozen or canned peaches
50ml orange juice
Method:
Blend the frozen raspberries (or any berries), orange juice, and half (125ml) of Plant-Based Crew Oat Milk Original for 1 minute.
Pour the mixture into the popsicle molds, filling each one roughly half full. Put away in the freezer for an hour.
Blend the frozen or canned peaches with the remaining 125ml oat milk and pour the mixture into the previously half-filled popsicle molds.
Freeze for 2 hours or until the popsicles are firm.
Enjoy these refreshing and healthy Berry & Peach Oat Milk Popsicles with your family and friends!